Need an attractive website?
Let's spin you a website to catch clients that stick around.
MMW designs & builds websites to look & feel great and work well to boost your business.
Web with a design

Difference
As an experienced graphic designer, I create websites with the designer difference that only comes from high-standard, seasoned design skills. In days gone by, only developers could build a professional website—and they usually aren't great designers. Now, with proficiency in the latest web building technology, designers can design and build websites as one seamless process—making it easier to get the results you want.
This means you work directly with the person designing and building your site, who understands your brand and brief. This really helps the whole process. They say I am friendly and easy to communicate with—and that makes a difference too!
Want that next level website to happen?
Get in touch for single-point, experienced talent in all you need to create the awesome website you want.
How it

works
I ask questions to understand your brand and project and what it is that that you are after. You may want something simple, or particular. Communication is key, so we establish what you need. I tailor the work I do to suit the right style, scope and budget of each client.
I build websites on the most popular web platforms such as WordPress, Squarespace, Wix, using leading software technologies for robust functionality, efficiency and contemporary possibilities. 
Pricing
Work is charged based on the time and skill involved, bundled into 'package chunks' where applicable. We agree on the expected cost and outcome beforehand. From there, jobs may evolve as we go, so when there are new things beyond the original scope, they are extra chargeable time and I'll communicate that as we go.
I work with other freelance specialists (mine or yours) for anything beyond my expertise.
Hosting
Your website needs to be hosted (live on a server) and be maintained with updates, security measures & monitoring, performance setting adjustments, and backups.
It's usually easier and more efficient to have this all in one place, so I offer these services at competitive rates, alongside the sites I build. The level of hosting and maintenance cost depends on the size, traffic and complexity of your site, so that is tailored to suit. I use state-of-the-art fast, affordable bulk-reseller hosting technology.
Technical Stuff
WEB SITE FEATURES & SERVICES
I build websites primarily using the WordPress platform. This allows an amazing array of design and functional possibilities without code customisations.
All sites come with:
CMS (Content Management System) so you can keep content up to date yourself if you wish.
Responsive Design (work & look good on desktop, phone & tablet)
Parallax, etc features (cool stuff)
SEO at standard/basic level
Standard speed optimisation
Contact form, links, gallery, accordion
Video embed or background
Library icons
OTHER OPTIONS
Google Map
Social Media Feeds
Blog
Social Media Icons//Links
Site Search
Project Galleries
Further Slideshows, Accordions, Galleries
Mega Menu
and heaps more!
ADDITIONAL THINGS
Hosting & Maintenance Packages: affordable premium modern technology hosting solutions
eCommerce (shop)
SEO advanced
Multiple landing pages
A/B testing
Multisites
Copywriting
Content creation–images, graphics, copy
Custom photography
Stock images
Custom graphics
Sunergy Solar
The whole shabang—branding & logo design, copywriting, custom diagram and illustration graphics, fully responsive website design & build.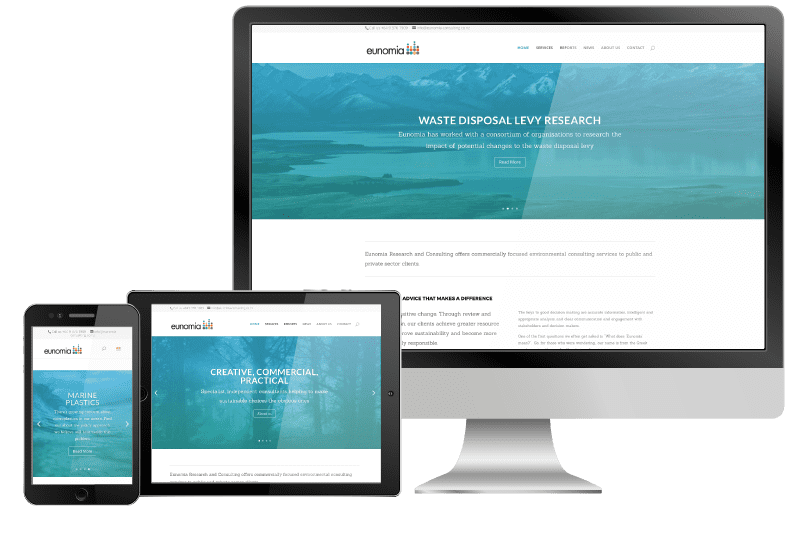 Eunomia Consulting
Responsive WordPress site with integrated media feeds, designed to compliment it's parent UK site.
Acacia Skin Health & Beauty
A responsive site designed to showcase the wide range of quality services offered. Complete with online shop for products, service bookings and social media integration.
Time to lift YOUR website to the next level!
See our profile on DesignRush